90cm travel fishing rods carrying bag Xin-Beng-90 with 3 large compartments and a large side pocket.
For air travel, you're much better off with a rod case. Bag is very comfortable to carry through airports. You can put rods and reels, fly boxes, tools, camera and all neceserally accessories along with some medication and sun block. You can carry it on the plane and every where you go. When you get to a distant destination you can go fishing even if your checked bags get lost.

It has 3 large zippered compartments (size 35"x5"(8" in the middle)x3"), one zippered side pocket (20"x4.5"x1.5"), 2 fully adjustable shoulder straps and a hand-carry straps for easy carrying.
---
| | |
| --- | --- |
| Multi rod carrying case is totally necessary for the dedicated fisherman. With 3 large storage compartments and one zippered side pocket this bag has enough space for most of your equipment. As you can noticed on the picture one large compartment have enough room for two telescopic rods with reels, 12ft and 15ft collapsible fishing rod, and it is not fully filled in. | Click to see a bigger picture |
| | |
| --- | --- |
| Click to see a bigger picture | The second and the third large compartments have enough room for landing net with 4.2 meters / 14ft telescopic handle, 102 cm rod holder, 3 telescopic pole rods 21ft and 18ft and plastic boxes filled with fishing accessories. You can put an extra rods for your fishing trip or umbrella or whatever your needs are, and it still got space for storing more accessories. The side pockets are perfect for storing fly boxes, tools, lures, bottled scent, sunscreen, or any small accessories. Ideal place for your cell phone or two-way radio. |
Rod Case allows quick access and safe storage. Use as a carry-on for that long planned trip to distant water or store in the car to wet a quick line at that sweet bends in the river. You can rig up the night before and break down the rod and put it in the carrier. When your jet boat or plane lands at the fishing spot you are ready to go in no time. The other people will be wasting a lot of time rigging up. First one on the river gets his choice of spots.
Travel fishing rod carrying bag designed for rods that is about 35" long or so, that would be a good size for a landing net, umbrella, rod holders and any other fishing accessories with collapsible length up to 325 long.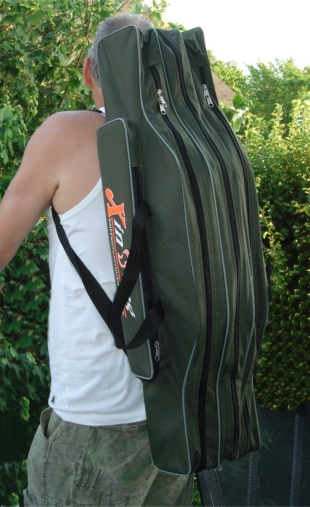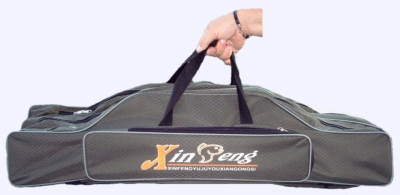 Click to see a bigger picture