21ft Sagiri 63MC Universal joint small clear stream telescopic fishing Pole Rod made by Daiwa of 98% HVF carbon.
Brand new 6.37 meters telescopic pole, weight 133g, collapced to 57cm, easy to carry. 13 telescopic sections easily extend from 1.9ft to 21.2ft, multi-function model length with two levels: 63 <=> 58, in 50cm multi-length one section. This rod has been manufactured by Daiwa using best Daiwa design, engineering and technology. Made of a 98% Japanese High density HVF carbon with cross wave graphite for better security and lighter weight. This all-purpose compact telescopic pole provides superior portability, yet extremely sensitive and versatile, great for tenkara fishing, float fishing, pulse fishing. It will detect the slightest bites, and still will have enough strength to land the hardest fighters.
Light Action makes this pole perfect for mountain stream fishing to target shrimp, Rockfish, Bluegill, Crappie, Rudd, Green Sunfish, Roach, Longear Sunfish, Smallmouth Bass, for Trout, Dace in the clear streams, Largemouth Bass, Suwannee Bass in the ponds and streams, Goby in the estuary, and many other species in a small clear streams.
Sagiri 63MC
Sale Price: $214.95


High density HVF carbon: 98%
Telescopic Sections: 13
Standard Length: 21.2ft / 6.37m
2-Way Top-stop: 63 <=> 58
Collapsed Length: 1.9ft / 57cm
Standard Weight: 4.7oz / 133g
Destination diameter: 0.6mm.
Yuan diameter: 22.7mm.
Line weight: 0.2-0.6 (Tippet: 6X)
Solid exta-sensitive tip.
Strengthening Ki-jo wooden tip plug.
Plug protects rod when collapsed, remove it to extend rod).
Screw grip cap (helpful for rod maintenance).
Heavy taper bat to reduce the Mochiomori.
One-hand non-skid finish grip.
Soft cotton pole bag and Plastic display case.
Rod is designed to use without a reel.




Click to see a larger picture
Last tip section has strong braid Lillian string connected to the tip.
This string greatly enhances the sensitivity of the pole for detecting slightest strikes.
Line can be attached to lilian string with a single overhand loop on the connector.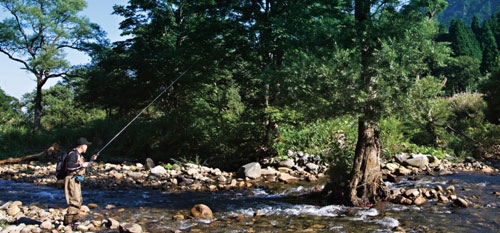 This pole rod allows to get you deep into the brush where large fish hide, to place your baits or flies in hard to reach places, exactly where you want it, as quietly as possible. It will increase your comfort and allows you for hours of fishing without arm fatigue, to be able to concentrate baits in very small areas of water and be able to fish outside, over or above of your feed area with the utmost accuracy. This rod has high level of sensitivity and decent level of power with the rod's extra-sensitive tip, which allows you to feel even the smallest bites. Very compact pole, 13 telescopic sections easy collapced to 57cm. Multi-function length allows you easily change the length without putting it apart or changing the poles with one section easy extends.
Back to top

Also recommended with this item:
---
Also recommended with this item:
---
Daiwa technology to enjoy the mountain stream with Sagiri 63MC
High density HVF carbon.
| | |
| --- | --- |
| | In carbon sheet that affect most rod performance, high elasticity of the carbon fiber itself, focused on the amount resin adhesive you put together the carbon fiber. Increased the density of carbon fiber instead by reducing the amount of resin put a tight carbon fiber that minute, achieve more muscular and powerful rod with lighter weight and feature a faster action. It is the best material to pole with an emphasis on strength and tenacity. Widely used, such as rocky rod with an emphasis on strength and stickiness. |
Solid tip.
| | |
| --- | --- |
| | The tip section is solid and is almost unbreakable, involving 1.5 times higher strength. Conventional full carbon fiber tips feature an imbalanced distribution of the single fibers within the material, which causes high risk of breakage. The carbon fibers are uniformly dispersed, showing a similar bend in any direction by 360 degrees with little variation. Uniform solid carbon fiber tends to be the strong part and weak parts with a strong bent differently depending on the direction they are pulled. In addition, there is no smooth curve bends. |
50cm multi-length one section. Compact hard top cover.
Multi-function model with 2 way adjustable length levels: 63 <=> 58, in 50cm 1 section multi-length allows you easily change the length without putting it apart or changing the poles with one section (for 6.3 meters) easy extend.

Compact hard top cover great protection of top sections when rod is collapsed, Need to remove it when extending the rod.
Back to top

Pole fishing is one of the most efficient and effective methods of catching almost any fish swimming in your local waters, canals, small still-water or commercial fisheries, ponds, lakes, mountain streams or rivers, from pear or off shore. You can land big fish, including carp and the advantages in skilful bait presentation are outstanding. The advent of the pole is to allow us to fish of the far side hiding places, to place your baits exactly where you want it, as quietly as possible. Length allows to get you deep into the brush where large fish hide, It allows to get the live baits or spoons in hard to reach places where reel rod can't. Very light weight allows you for hours of fishing without arm fatigue, to be able to concentrate ground baits in very small areas of water and be able to fish outside, over or above of your feed area with the utmost accuracy. Pole fishing is an art form. You can't even imagine the fun you got when gently move the pole against the fish to strike, ship the line to you, swing the fish to hand, unhook, re-bait and place pole back in the water ready for the next fish. They can be used for small Silver fish, or for the hard fighting Carp. Poles allow you to fish with a great level of precision and sensitivity. Just once you try pole fishing, you'll ask yourself why it wasn't sooner.
The most credit for spectacularly growing popularity of pole rod fishing must be given to the tackle manufacturers who continue to produce cheaper, stronger, lighter poles, rods each season. Best quality refers to Japanese Design, Engineering and Technology, Japanese equipment and materials are still the best in the world by far. This rod has been designed and produced by DAIWA SEIKO INC., in the very efficient Daiwa factory in China from Daiwa Carbon, using best Design, Engineering and Technology by DAIWA. The technological expertise of the Daiwa engineers gives the company world-class resources to produce a high-quality product. Daiwa is the No. 1 rod manufacturer in the World makes sure that its extremely high quality standards, "Daiwa quality", are observed regardless of where the product is manufactured.
Back to top

Browse similar items by category:


Manufacture:
Japanese Type:
Type:
Size: