17.7ft 7:3 action universal small joint telescopic fishing pole LBT-CLUB-53 manufactured by Daiwa of Higher Modulus 79% HVF carbon.
Brand new 5.24 meters telescopic pole LBT-CLUB-53, also known as LIBERTY CLUB BANNOU KOTSUGI, collapced to 56cm, weight 164g, easy to carry. 11 telescopic sections easily extend from 1.8ft to 17.7ft. Made of a 79% Higher Modulus Low Resin Graphite carbon density HVF manufactured by Daiwa, with cross wave graphite for better security and lighter weight. Rod has been designed and produced by Daiwa from Japanese Carbon, using best Design, Engineering and Technology from Daiwa. This compact telescopic pole provides superior portability, yet extremely sensitive and versatile. The lightweight, high-modulus graphite blank is incredibly sensitive and will detect the slightest bites, and still will have enough strength to land the hardest fighters.
One of the nice features of the rod is Ring sticking prevention to prevent vibration of pole, reducing the trouble of sticking of the sections. Eliminating the air gap between sections and into action to make things between the goods and becomes close contact that will stick. Strength of the force depends on the area with the needle stuck because if they are prevented from sticking by reducing the contact area of the layer made of air. Excellent operability, where the 7:3 action is easy to handle. Adopt a good solid tip further encroachment.
7:3 Medium-Light Action makes this pole perfect for mountain stream fishing to target Trout and Salmon, of course, Pale Chub / Oikawa, Pike and Dace in the clear streams, Carp and Bass in the ponds and streams, Goby in the estuary, in the breakwater small aim easily target a variety Mackerel and Halfbeak, such as Mackerel Tsugizaothe, Horse Mackerel.
This rod is very comfortable and easy to use, the basic functions and design quality and attention to each detail make it perfect for every fisherman from a young kid to a professional angler.
LIBERTY CLUB BANNOU KOTSUGI 'LBT-CLUB-53'
Sale Price: $109.70
(March Special: $98.70)

Higher Modulus 79% HVF carbon.
Medium-Light 7:3 Action.
11 Telescopic Sections.
Total Length: 5.24m / 17.7ft
Folded Length: 1.9ft / 56cm
Weight: 164g / 5.8oz
Diameter Minor: 0.7mm
Diameter Major: 26.4mm
Line weight: 0.4-0.8kg
Solid tip.
Ring sticking prevention.
Hard top cover (to protect collapsed rod, remove to extend rod).
Screw grip cap (helpful for rod maintenance).
Soft cotton pole bag and Plastic case.
Rod is designed to use without a reel.



Click to see a larger picture
Last section has strong braid Lillian string connected to the tip.
This string greatly enhances the sensitivity of the pole for detecting slightest strikes.
Line can be attached to lilian string with a single overhand loop on the connector.
Light and easy to handle! Good specifications friendly from beginners to professionals.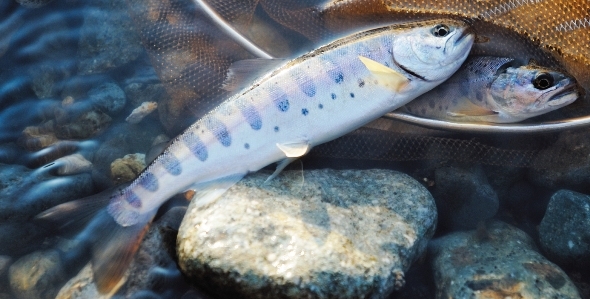 Widely use to target trout and salmon on fishing streams, carp in the pond, chub and dace in the clear stream and creek, goby in the vicinity of the mouth, in the breakwater small aim easily target a variety of horse mackerel and halfbeak, such as mackerel Tsugizao. Is recommended for use with this one gimmick match an Atari Bali, you can enjoy one-on-one interaction to the incorporation of the argument after taste.
Back to top
Also recommended with this item:
---
Also recommended with this item:
---
Daiwa technology to enjoy the mountain stream fishing with LIBERTY CLUB BANNOU KOTSUGI
Anti-sticking ring
to reduce the trouble of anchoring the joint and to reduce the risk of sections jammed.
| | |
| --- | --- |
| | Because air has a function of making a gap between the sections the adhesion becomes lost, sometimes sections are stuck. Sections are usually prevent the adhesion of sticking even when surrounded by a hard material such as metal. Changes depending on the strength of the force of the area has been crucified crucifixion, you help discourage sticking by reducing the contact area by creating a layer of air by providing the unevenness in the anti-stick ring. |
HVF carbon.
| | |
| --- | --- |
| | In carbon sheet that affect most rod performance, high elasticity of the carbon fiber itself, of course, focused on the Daiwa (resin) amount resin adhesive you put together the carbon fiber. Increased the density of carbon fiber instead by reducing the amount of resin which can be called the excess fat "ultra-high density HVF carbon" is powerful in more muscular. It is the best material to pole with an emphasis on strength and tenacity. |

Back to top
Pole fishing is one of the most efficient and effective methods of catching almost any fish swimming in your local waters, canals, small still-water or commercial fisheries, ponds, lakes, mountain streams or rivers, from pear or off shore. You can land big fish, including carp and the advantages in skilful bait presentation are outstanding. The advent of the pole is to allow us to fish of the far side hiding places, to place your baits exactly where you want it, as quietly as possible. Length allows to get you deep into the brush where large fish hide. It allows to get the live baits or spoons in hard to reach places where reel rod can't. Very light weight allows you for hours of fishing without arm fatigue, to be able to concentrate ground baits in very small areas of water and be able to fish outside, over or above of your feed area with the utmost accuracy.
Pole fishing is an art form. You canít even imagine the fun you got when gently move the pole against the fish to strike, ship the line to you, swing the fish to hand, unhook, re-bait and place pole back in the water ready for the next fish. They can be used for small Silver fish, or for the hard fighting Carp. Poles allow you to fish with a great level of precision and sensitivity. Just once you try pole fishing, you'll ask yourself why it wasn't sooner.
The most credit for spectacularly growing popularity of pole rod fishing must be given to the tackle manufacturers who continue to produce cheaper, stronger, lighter poles, rods each season. Best quality refers to Japanese Design, Engineering and Technology, Japanese equipment and materials are still the best in the world by far. This rod has been designed and produced by DAIWA SEIKO INC., in the very efficient Daiwa factory in China from Daiwa Carbon, using best Design, Engineering and Technology by DAIWA. The technological expertise of the Daiwa engineers gives the company world-class resources to produce a high-quality product. Daiwa is the No. 1 rod manufacturer in the World makes sure that its extremely high quality standards, "Daiwa quality", are observed regardless of where the product is manufactured.
Back to top

Browse similar items by category:


Manufacture:
Japanese Type:
Type:
Size: