15ft Luxury strong and sensitive Hera rod Youshu-15 manufactured by Daiwa of 99% HVF Carbon.
Hera rod is the most powerful type of pole rod series. "Hera = Herabuna", the Japanese Crucian Carp, hard fighting fish.
Brand new 4.5 meters hera rod, collapced to 100cm, extra-light weight, 85g, easy to carry. 5 put-in sections easily extend from 3.3ft to 15ft. The rod is made of a 99% High Modulus HVF Carbon combines precise resin control with unidirectional carbon fibre manufactured in Japan by Daiwa, using Daiwa Design, Engineering and Technology. Taira jointed rod average of full-scale specification beyond the class active field wherever fishing, fishing and management field. Tone gradually changes to a destination tone during long transfer from the short is also a gimmick is easy to light, also determined fit comfortably. Extra-Fast Action and perfect recovery power make this super lightweight rod do not have a heavy feeling at 4.5 meters in length and communicates an accurate fish bite. This compact rod provides superior portability and super fine stroke. It is extremely versatile and incredibly sensitive, and still have enough strength to land the hardest fighters.
This rod is one of the lightest, strongest and most sensitive rod ideal for fishing species like Largemouth Bass, Carp, Rainbow Trout, Pike, Crappie, Bluegill, Yellow Perch and many other game fish. Rod can be used widely from Trout fishing on a streams to Striped Bass fishing from the shore.
Daiwa Youshu-15
Out of stock


HVF carbon: 99%
Standard Length: 4.5m
Sections: 5 (Combined male & female taper)
Collapsed size: 100cm
Standard weight: 85g
Destination diameter: 1.1mm
Yuan diameter: 11.2mm
Tubular pike entangled
Non-slip grip woven adopted
Knitting bag grip
Rod tip plugs: 2 (to protect collapsed rod, remove to extend rod)
Screw grip cap (used for rod maintenance)
Soft cotton rod bag, plastic case
Rod has exclusively high performance, very flexible and strong




Click to see a larger picture
Rod is designed to use without a reel.
Last tip section has strong braid Lillian string attached to it with an extremely small metal sleeve, designed as swivel, which allows the Lillian rotate by 360 degrees without line twist.
This string greatly enhances the sensitivity of the pole for detecting slightest strikes.
Line can be connected to the rod with a single overhand loop on the braid Lilian string.
Specification authentic taste the joy of carp fishing spatula.
Taira pole parallel splicing of authentic specification exceeds the class that he did not choose the location field fishing, fishing and field management. Tone on tone change gradually through long destination from the transfer is short and easy to work with light, also determines the alignment comfortably.
Plug Ki-jo durable reinforcement. Tubular pike gimmick attached metal sleeve. Adopted a knitted slip grip.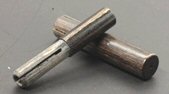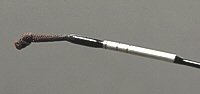 Also recommended with this item:
---
Also recommended with this item:
---
This hera rod allows you to place your bait exactly where you want it, as quietly as possible. It allows to get you deep into the brush where large fish hide, to get the live baits or spoons in hard to reach places where reel rod can't. It will increase your comfort and allows you for hours of fishing without arm fatigue, to be able to concentrate ground baits in very small areas of water and be able to fish outside, over or above of your feed area with the utmost accuracy. This rod has high level of sensitivity and decent level of power with the rod's extra-sensitive tip, which allows you to feel even the smallest bites.
Hera Fishing is one of the most efficient and effective methods of catching almost any fish swimming in any waters: canals, shores, small still pocket waters or commercial fisheries, natural lakes and ponds, fast flowing mountain streams and rivers. You can land big fish using a hera rod, and the advantages in skilful bait presentation are outstanding. You canít even imagine the fun you got when gently move the rod against the fish to strike, ship the line to you, swing the fish to hand, unhook, re-bait and place rod back in the water ready for the next fish.
Hera Rod Fishing is the greatest sport that is allied with the conversation of our fish while enjoy a day stream. Fishing comes with a real pleasure and joy derived from fishing because it has long been termed ďan Art.Ē Hera rod provides a tremendously wide variety of fishing, from catching bass with nightcrawlers, trouts on a fly, a pike on live bait, carp with corn or catfish on chicken liver.
The most credit for spectacularly growing popularity of Hera rod fishing must be given to the tackle manufacturers who continue to produce cheaper, stronger, lighter rods, rods each season. Best quality refers to Japanese Design, Engineering and Technology, Japanese equipment and materials are still the best in the world by far. Daiwa is the No. 1 rod manufacturer in the World makes sure that its extremely high quality standards, "Daiwa quality", are observed regardless of where the product is manufactured.

Browse Similar Items by Category:
Manufacture: Daiwa Rods
Type: Daiwa Hera Rods
Type: Hera Rods
Size: Hera Rods 4.5 Meters